For this post I'm picking my starting five for the 2018-2019 NBA Season of players I'm genuinely scared of. This really has nothing to do with their basketball skills, but I'd want these guys backing me up when it comes to the intimidation factor in the NBA.
PG- Marcus Smart
I mean, what can I say, Marcus Smart is a DOG. This guy would accept an 80 game suspension for fighting an entire team just for calling one of his own teammates ugly. Every scuffle the Celtics got into this past season, Marcus was either the instigator or right behind the target backing them up. This even dates back to college when he stood his ground and He is a phenomenal teammate, and I would not look at him the wrong way while on the court.
SG- Bradley Beal
The shooting guard position is a tough one because there is a lot of cowards and small guys around the NBA, but one of the tougher minded players out their is Bradley Beal. After he pretty much threw Draymond Green to the ground, I knew Beal was a guy who can hold his own ground. With the scrappy duo of John Wall and himself, I think Beal is definitely a great teammate to have backing you up when things get chippy on the floor.
SF- James Johnson
Black belt in karate, 7-0 MMA record, is there anymore I have to say? Those are pretty impressive feats to add to his resume especially while also being 6'9 and athletic enough to keep up with today's NBA. Johnson is a hot head usually starting scuffles with opposing teams but the smarter players will not mess with this guy because they'd watch their life flash before their eyes.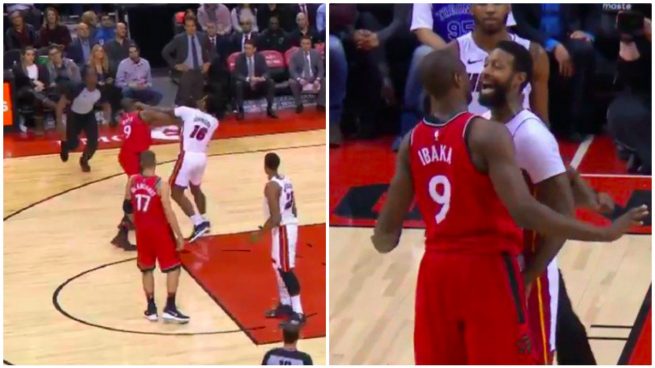 PF- Serge Ibaka
This guy is another big boy. After his attempted haymakers thrown at Robin Lopez a couple years back and his fight with the other guy on this list James Johnson, I knew Serge was not the guy to talk shit to. Ibaka is built exactly how a power forward in the NBA should be and is ripped enough to serve as your team's intimidation factor, while still having the basketball skills to back up his tough guy persona.
C- Steven Adams
This guy is a monster. You don't see many altercations involving Adams purely because everyone knows he could end their life right there and then if he really wanted to. Steven Adams is also the youngest in his family of 18 kids…18!!!! How crazy is that!? They must have been making daily trips to the grocery store spending $300 on dinner for one night. His savage of a father stood 6 ft. 11 inches and had 18 children with 5 women, one of them, being an Olympic gold medalist in the shot put, Valerie Adams AKA Steven's mother. With a crazy back story like that and a 7 ft. 255 pound frame, Steven Adams is not one to mess around with, and will always be there to separate entire teams from each other when it comes down to a scuffle.
Honorable Mentions:
David West, Marcus Morris, Bobby Portis, Quincy Any